HP – Our Data Storage Systems
Hewlett-Packard is a major American company in the field of information technology, a supplier of hardware and software for companies and individual consumers. The company's headquarters is located in Palo Alto (California, USA).
The company provides solutions for IT infrastructure, personal computing systems and access devices, system integration services, maintenance support and outsourcing, as well as printing and imaging devices.
We chose the products of this company as Data Storage System, HP 3PAR StoreServ 7400 servers fully comply with the stringent requirements imposed on data storage system of virtual infrastructure, and you can keep cool about the performance of hard disk of your virtual server and its fail-safety.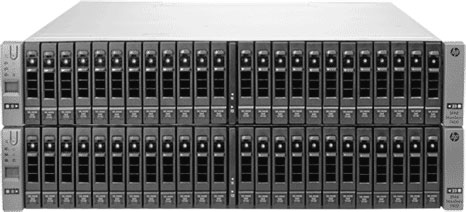 Each array controller in addition to two Intel CPUs, has a unique ultra-fast ASIC Gen4 processor allowing to optimize data stored in the system on the fly. SSD, SAS and SATA drives of SFF (2.5 inches) and LFF (3.5 inches) form factor can be mounted in drive racks, and different types of drives of one form factor can work in the same rack. The performance of controllers does not become a bottleneck when using high-performance SSD-drives: average bandwidth is 4.8 Gbps per drive.
The system has four built-in 8-Gigabit FiberChannel ports for high-speed communication between RAIDs and servers that host virtual machines. Total number of ports can be expanded to 24.